What is IT Strategy?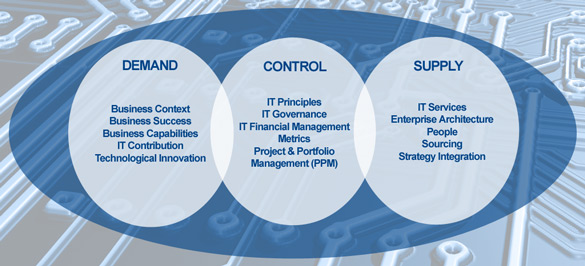 Information Technology Strategy: A CIO Success Kit, Gartner Executive Programs (March, 2009)
IT strategy is about how IT will help the organisation win in its chosen markets. IT strategy has two roles of guiding the business strategy and IT delivering on the business strategy. `What does a great IT strategy look like?' is hard to define. Gartner, one of the world's leading IT research and advisory company's believe it should include information on demand, control and supply as shown in the figure above and described in the table below adapted from `IT Strategy: A CIO Success Kit, Gartner Executive Programs' (March, 2009).
DEMAND

CONTROL

SUPPLY

Business Context

Covers business models, business strategy, growth markets served, customer segments and relevant technology trends.

IT Principles

Drive behaviours and provide a framework to guide the IT leadership team's strategic decisions.

IT Services

Covers the scope, depth and breadth, of IT services and processes provided by the IT team.

Business Success

Clarifies the organisations strategic ambitions of "How we will win" and it is about the overall direction to drive business success.

IT Governance

The definition of decision rights and the accountability framework to encourage desirable behaviour in the use of IT – how IT decisions get made strategically.

Enterprise Architecture (EA)

The construct used to describe the relationship between the organisations business, applications, technology and information services.

Business Capabilities

Used to bridge the gap between out-ward facing corporate strategy and inward-facing internal plans and  activities

IT Financial Management

Describes how finances flow in and out of the IT function supported by planning, cost control and allocation financial processes

People

Assessment of the people capability and training needs today and in the future as well as critical HR processes.

IT Contribution

Describes IT's `value proposition' to the business and should form the core of the IT teams strategy.

IT Metrics

Used to measure success of the IT organisation clearly linked to business success metrics.

Sourcing

Covers the organisations approach to IT sourcing across the different IT services.

Technological Innovation

Describes IT contribution (if any) to the organisation's innovation process and environment required to support this.

Project & Portfolio Management (PPM)

Covers the approach taken to determine the optimal mix and sequencing of proposed IT projects to best achieve the organization's business goals.

Strategy Integration


Describes linkages between the strategy components such as the inter-dependencies between project portfolio management, EA and the application portfolio life cycle.